Global News Podcast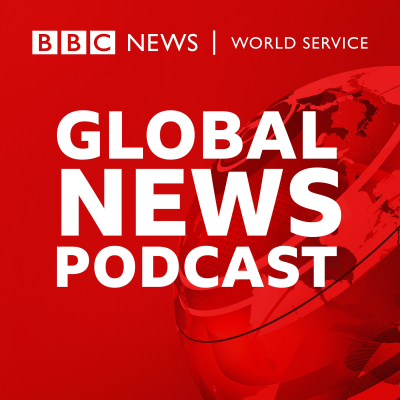 The latest from Israel and Gaza and all the top stories from BBC News. Twice a day on weekdays, daily at weekends and special episodes. Reports and analysis from around the world.
Website : http://www.bbc.co.uk/programmes/p02nq0gn
RSS Feed : https://podcasts.files.bbci.co.uk/p02nq0gn.rss
Last Episode : November 30, 2023 10:58am
Last Scanned : 1.1 hours ago

Episodes
Episodes currently hosted on IPFS.
Temporary ceasefire extended in Gaza into a seventh day
Three people were killed by Hamas gunmen in Jerusalem hours after the ceasefire in Gaza was extended into a seventh day. Also on the programme: the UN climate summit begins in Dubai, and the former top US diplomat Henry Kissinger dies aged 100.
Expires in 40 hours
Published Thursday
More hostages released from Gaza on sixth day of truce
Thirty Palestinian prisoners are also due to be freed from Israeli jails. Also: US says it has foiled alleged plot to kill Sikh activist, and astronomers discover "the perfect solar system".
Expires in 27 hours
Published Wednesday
Israeli forces raid occupied West Bank refugee camp
The IDF says it has killed two Palestinian militant commanders. Also: An EU report lists who experiences the most online hate, and why there's a new dress code in Kenya's Parliament.
Expires in 20 hours
Published Wednesday
Trapped Indian workers freed after 17 days
Amid scenes of jubilation, the operation was finally completed despite numerous problems and setbacks. Also: Hamas releases 12 more hostages and Israel hands over 30 more Palestinian prisoners on day 5 of a temporary truce, and the wolf spider that decided to lay its eggs in a cruise ship passenger's toe.
Expires in 7 hours
Published Tuesday

1
Indian rescuers reach 41 trapped tunnel builders
An evacuation pipe has been inserted into the collapsed tunnel, where the men had been trapped for more than two weeks. Also: the truce in Gaza appears to be holding for a fifth day - after a swap deal between Israel and Hamas was extended, and the first transatlantic flight powered by an alternative fuel has taken off from London.
Published Tuesday

1
Israel and Hamas truce extended by two days
The Israeli army says that eleven hostages released by Hamas from Gaza are now in Israeli territory. In return, thirty-three Palestinian prisoners are being freed. Also: The government of Sierra Leone blames renegade soldiers for a series of attacks in Freetown on Sunday that left twenty people dead, and the festive video by a family-run pub in Northern Ireland that's getting rave reviews and giving big retailers a run for their money.
Published Monday

1
Pressure mounts to extend Israel-Gaza ceasefire
Israel's allies and neighbours are hopeful that the pause in fighting can be extended beyond the fourth exchange of hostages and prisoners. Also, environmental activists say they're shocked at claims the United Arab Emirates has used its role as host of UN climate talks to make oil and gas deals. And six former pupils at a school in France go on trial over their alleged links to the beheading of teacher Samuel Paty in 2020.
Published Monday

1
Israel-Gaza: More prisoner and hostage exchanges
Hamas and US President Joe Biden say they'd like an extension of the current four-day truce that's seen dozens released, but Israel's Prime Minister says that after the truce, his country will return to war. Also: The government of Sierra Leone says it's back in control, after gunmen attacked a barracks and several prisons in the capital, and The Irish writer Paul Lynch wins this year's Booker prize.
Published Sunday

1
COP 28 special: Your climate questions answered
Our climate editor Justin Rowlatt and The Climate Question presenter Graihagh Jackson address issues including whether the oil-producing UAE is the right host for the meeting, what one thing we can all do to save the planet, and is a plant-based diet on the agenda?
Published Sunday

1
Israel-Gaza: Second day of hostage and prisoner releases
Hamas has handed back thirteen Israeli and four Thai nationals, and Israel is returning thirty-nine Palestinian prisoners. Also: Tens of thousands of Italians protest against gender based violence, and the BBC's Doctor Who marks its sixtieth anniversary with a special TV series.
Published Saturday

1
The Happy Pod: It's never too late to graduate
Our weekly collection of the happiest stories in the world. This week, the war veteran from Texas who's graduated from high school 60 years after he left. Also: the comic book that is educating girls all over the world about periods and menstruation. And: the cat meowing her way to a Christmas hit.
Published Saturday

1
Twenty four hostages released by Hamas now back in Israel
Israel says the hostages, who were held in Gaza, are all in good health. In exchange for their freedom, thirty-nine Palestinian prisoners have been released. Also: A fishing vessel has been seized by suspected Somali pirates, and the French government urges shoppers to think twice before spending money on Black Friday.
Published Friday