Farm Small Farm Smart Daily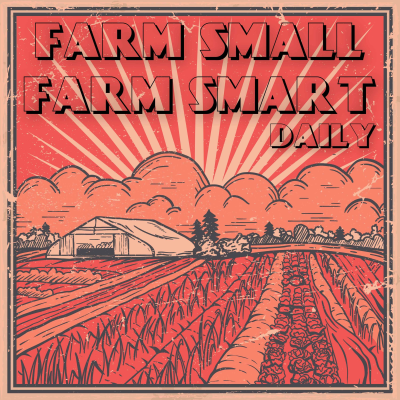 Daily farm and garden talk. All about growing vegetables profitably and efficiently on small farms and in gardens. Each episode focuses on one specific topic - growing practices, how-to, farming challenges and struggles, sales and marketing, soil preparation, weed management, farm startup, market selection, and work-life balance. Hosted and produced by Diego Footer's Modern Grower Podcast Network.
Website : https://www.paperpot.co
IPFS Feed : http://ipfspodcasting.com/RSS/424/FarmSmallFarmSmartDaily.xml
Last Episode : November 30, 2023 7:00am
Last Scanned : 3.2 hours ago





Episodes
Episodes currently hosted on IPFS.
Investing In Large Equipment
In this episode, The Lean Farmer Ben Hartman shares some points to think on when you're considering on investing on large equipment for your farm.  Make farming easier with the Paperpot Transplanter and Other Small Farm Equipment at https://www.paperpot.co/ Follow PaperpotCo on IG https://instagram.com/paperpotco Podcasts by Diego Footer: Microgreens: https://apple.co/2m1QXmW Vegetable Farming: https://apple.co/2lCuv3m Livestock Farming: https://apple.co/2m75EVG Large Scale Farming: https://apple.co/2kxj39i Small Farm Tools https://www.paperpot.co/
Expires in 38 hours
Published Thursday
How Beneficial Insects Do Their Work
In this episode, Sheri Frey of Arbico Organics gives us a run-through of how beneficial insects do their work.  Make farming easier with the Paperpot Transplanter and Other Small Farm Equipment at https://www.paperpot.co/ Follow PaperpotCo on IG https://instagram.com/paperpotco Podcasts by Diego Footer: Microgreens: https://apple.co/2m1QXmW Vegetable Farming: https://apple.co/2lCuv3m Livestock Farming: https://apple.co/2m75EVG Large Scale Farming: https://apple.co/2kxj39i Small Farm Tools https://www.paperpot.co/
Expires in 11 hours
Published Wednesday
Tips for a More Efficient Post-Harvest Process

4
In this episode, guest host Chris Thoreau and microgreens grower Michael Kilpatrick talks about a more efficient post-harvest process when it comes to microgreens.  Make farming easier with the Paperpot Transplanter and Other Small Farm Equipment at https://www.paperpot.co/ Follow PaperpotCo on IG https://instagram.com/paperpotco Podcasts by Diego Footer: Microgreens: https://apple.co/2m1QXmW Vegetable Farming: https://apple.co/2lCuv3m Livestock Farming: https://apple.co/2m75EVG Large Scale Farming: https://apple.co/2kxj39i Small Farm Tools https://www.paperpot.co/
Published Tuesday
Burn Out and Asking for Help

5
In this episode, microgreens grower Lily Evans talks about the importance of asking for help when we need it, especially when we feel burnt out.  Make farming easier with the Paperpot Transplanter and Other Small Farm Equipment at https://www.paperpot.co/ Follow PaperpotCo on IG https://instagram.com/paperpotco Podcasts by Diego Footer: Microgreens: https://apple.co/2m1QXmW Vegetable Farming: https://apple.co/2lCuv3m Livestock Farming: https://apple.co/2m75EVG Large Scale Farming: https://apple.co/2kxj39i Small Farm Tools https://www.paperpot.co/
Published Sunday
A Job That Fits into Farming

5
In this episode, farmer John Smajda talks about working away from a farming job to a farming-adjacent job. Make farming easier with the Paperpot Transplanter and Other Small Farm Equipment at https://www.paperpot.co/ Follow PaperpotCo on IG https://instagram.com/paperpotco Podcasts by Diego Footer: Microgreens: https://apple.co/2m1QXmW Vegetable Farming: https://apple.co/2lCuv3m Livestock Farming: https://apple.co/2m75EVG Large Scale Farming: https://apple.co/2kxj39i Small Farm Tools https://www.paperpot.co/
Published Saturday
Managing Fair Share Farm's Business

4
In this episode, farmer Emma Hendel shares what it's like running the business side of things at Fair Share Farm.  Make farming easier with the Paperpot Transplanter and Other Small Farm Equipment at https://www.paperpot.co/ Follow PaperpotCo on IG https://instagram.com/paperpotco Podcasts by Diego Footer: Microgreens: https://apple.co/2m1QXmW Vegetable Farming: https://apple.co/2lCuv3m Livestock Farming: https://apple.co/2m75EVG Large Scale Farming: https://apple.co/2kxj39i Small Farm Tools https://www.paperpot.co/
Published Friday
Defining Living Wage

4
In this episode, podcast host Diego Footer breaks down what a living wage is and what it can mean for someone in the small farming space.  Make farming easier with the Paperpot Transplanter and Other Small Farm Equipment at https://www.paperpot.co/ Follow PaperpotCo on IG https://instagram.com/paperpotco Podcasts by Diego Footer: Microgreens: https://apple.co/2m1QXmW Vegetable Farming: https://apple.co/2lCuv3m Livestock Farming: https://apple.co/2m75EVG Large Scale Farming: https://apple.co/2kxj39i Small Farm Tools https://www.paperpot.co/
Published 11/23
More Forgiving Microgreens

4
In this episode, flong-time microgreens grower Chris Thoreau talks about which microgreens have more room for error.  Make farming easier with the Paperpot Transplanter and Other Small Farm Equipment at https://www.paperpot.co/ Follow PaperpotCo on IG https://instagram.com/paperpotco Podcasts by Diego Footer: Microgreens: https://apple.co/2m1QXmW Vegetable Farming: https://apple.co/2lCuv3m Livestock Farming: https://apple.co/2m75EVG Large Scale Farming: https://apple.co/2kxj39i Small Farm Tools https://www.paperpot.co/
Published 11/22
Cold Season Flower Calendula

4
In this episode, farming couple Benny and Courtney Pino talk about the ins and outs of growing candula, a cold season flower.  Make farming easier with the Paperpot Transplanter and Other Small Farm Equipment at https://www.paperpot.co/ Follow PaperpotCo on IG https://instagram.com/paperpotco Podcasts by Diego Footer: Microgreens: https://apple.co/2m1QXmW Vegetable Farming: https://apple.co/2lCuv3m Livestock Farming: https://apple.co/2m75EVG Large Scale Farming: https://apple.co/2kxj39i Small Farm Tools https://www.paperpot.co/
Published 11/21
First Direct to Consumer Customers

5
In this episode, farmer and aggregator Adam Pollack shares how they got their first direct-to-consumer customers after they shifted away from restaurant sales.  Make farming easier with the Paperpot Transplanter and Other Small Farm Equipment at https://www.paperpot.co/ Follow PaperpotCo on IG https://instagram.com/paperpotco Podcasts by Diego Footer: Microgreens: https://apple.co/2m1QXmW Vegetable Farming: https://apple.co/2lCuv3m Livestock Farming: https://apple.co/2m75EVG Large Scale Farming: https://apple.co/2kxj39i Small Farm Tools https://www.paperpot.co/
Published 11/20
Write Yourself a Check

5
In this episode, farmer Taylor Mendell talks about the importance of acknowledging the hard work you do on the farm by writing yourself a check.  Make farming easier with the Paperpot Transplanter and Other Small Farm Equipment at https://www.paperpot.co/ Follow PaperpotCo on IG https://instagram.com/paperpotco Podcasts by Diego Footer: Microgreens: https://apple.co/2m1QXmW Vegetable Farming: https://apple.co/2lCuv3m Livestock Farming: https://apple.co/2m75EVG Large Scale Farming: https://apple.co/2kxj39i Small Farm Tools https://www.paperpot.co/
Published 11/19
We Need More Farmers

5
In this episode, one of the pioneers of organic growing in America, Scott Murray, talks about how the country needs more farmers now more than ever.  Make farming easier with the Paperpot Transplanter and Other Small Farm Equipment at https://www.paperpot.co/ Follow PaperpotCo on IG https://instagram.com/paperpotco Podcasts by Diego Footer: Microgreens: https://apple.co/2m1QXmW Vegetable Farming: https://apple.co/2lCuv3m Livestock Farming: https://apple.co/2m75EVG Large Scale Farming: https://apple.co/2kxj39i Small Farm Tools https://www.paperpot.co/
Published 11/18