My Brother, My Brother And Me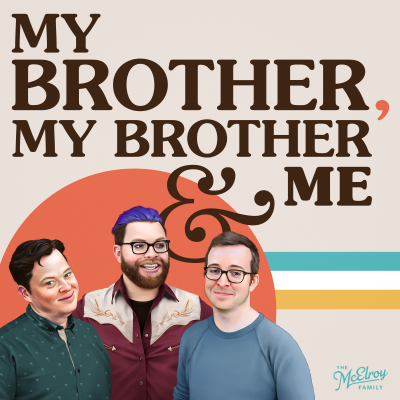 Free advice from three of the world's most qualified, most related experts: Justin, Travis and Griffin McElroy. For one-half to three-quarters of an hour every Monday, we tell people how to live their lives, because we're obviously doing such a great job of it so far.
Website : http://www.mbmbam.com
IPFS Feed : http://ipfspodcasting.com/RSS/268/MyBrotherMyBrotherAndMe.xml
Last Episode : November 27, 2023 12:00pm
Last Scanned : 1.1 hours ago

Episodes
Episodes currently hosted on IPFS.

1
MBMBaM 688: Face 2 Face: You Can't Boo Through the Whole Thing
This was during a very important sport game, so thank you Philadelphia for coming to the beautiful Miller Theater instead. We know how much Philly loves their sports, but we also learned they have a lot of feelings about other things, like large bees, studying, Step Mania, and Dolph Lundgren. Suggested talking points: Dog Bees Got Wolfman Magic, Loudest Baddest Idea, The Curse of Pocket Grandpa, 12-year-old What Got Bigged, Salt Knuckles, Who is the Chief of the Munch Squad, Fix Our Special Food, Easy and Good CheatingFair Elections Center: https://www.fairelectionscenter.org/
Published Monday

1
MBMBaM 686: Oompa What Now
We can finally talk about movies again, and we don't even know where to start. Just kidding, of course we do. We'll have to unpack Cold Ghost Busters another day, because it's time to get into the Wonkaverse! Suggested talking points: Wonky Makes Me Feel Good, Berry-trocious, Ketchup Joke Surcharge, Anti-Sports Island, Jackson Pollock of Autumnal FlavorFair Elections Center: https://www.fairelectionscenter.org/
Published 11/13