CrowdScience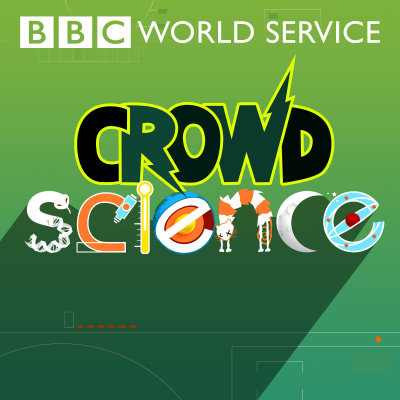 We take your questions about life, Earth and the universe to researchers hunting for answers at the frontiers of knowledge.
Website : http://www.bbc.co.uk/programmes/p04d42rc
IPFS Feed : http://ipfspodcasting.com/RSS/259/CrowdScience.xml
Last Episode : November 24, 2023 4:00pm
Last Scanned : 22 minutes ago


Episodes
Episodes currently hosted on IPFS.
What's the difference between reading and listening to books?
CrowdScience listener Michael wants to know whether the brain responds differently if we listen to books instead of reading them. Do we retain information in the same way? And is there a difference between fiction and non-fiction? Anand Jagatia finds out whether curling up with a good book is better than putting on his headphones. She is speaks to Prof Fatma Deniz from the Technical University of Berlin; Prof Naomi Baron from American University, Washington DC; Prof Patrick Nunn from the University of Sunshine Coast, Queensland and The Guesthouse Storytellers.Presenter: Anand Jagatia Producer: Jo Glanville Editor: Richard Collings Production co-ordinator: Jonathan Harrison Sound engineer: Andrew Garratt(Photo: Senior man wearing headphones listening to an audiobook. Credit: pixdeluxe/Getty Images)
Expires in 43 hours
Published Friday
Why do we lie?
Lying is something all humans do. We find it in every culture around the world. It's in the world of work, in our relationships and online. It's all pervasive and hard to escape. Our question this week is from listener Anthony from Cambodia. He asked us to find out why we lie, and wants to know how conscious we are of the lies that we tell? CrowdScience's Caroline Steel is in the hot seat, on a journey where she will attempt to untangle the complex story behind lying. It's a subject scientists and psychologists have been studying for a long time. It's also something writers, philosophers and theologists have been interpreting for thousands of years. But we're only now really starting to get to grips with how it works as a human behaviour. There are lies in our folklore, lies in the media and also lies in everyday conversation. It's something we've all had to learn to navigate at some point in our lives. In this episode the CrowdScience team unravels the mysteries surrounding the behaviour and the art of lying. Our journey will take us to meet the world's 'second best liar', an award she picked up at West Virginia's Liar Contest. We'll also meet a comedian who's proud of the down-to-earth plain honesty of Dutch people. An academic who has studied thousands of children's brains will explain when we first start learning to lie. And we'll hear about new research using magnetic resonance imaging, commonly known as MRI scans, which is helping to show how the more we actually lie, the less our brain reacts telling us not to. Caroline looks at how lying changes from culture to culture. Do we really all lie? And do we lie in the same way? The surprising and intriguing answer is found in how early it develops in us as a human behaviour. Contributors: Prof Kang Lee, Professor in Applied Psychology and Human Development at Ontario Institute for Studies in Education, University of Toronto Prof Tali Sharot, Professor of Cognitive Neuroscience at University College London Ian Leslie, journalist and author of 'Born Liars' Ariana Kincaid, Champion Liar at West Virginia Liars Contest Derek Scott Mitchell, actor and comedian | @letsdoubledutch on Instagram Readings by Kitty O'Sullivan Presenter: Caroline Steel Producer: Robbie Wojciechowski Editor: Richard Collings Production Co-ordinator: Jonathan Harris Studio Managers: Emma Harth, Donald MacDonald, Andrew Garratt(Photo: Young Businessman Interviews for new job. Credit: Andrew Rich/ Getty Images)
Expires in 48 hours
Published 11/17
What will 1.5° of warming look like?
Our planet is quickly approaching 1.5 degrees Celsius of warming (2.7 degrees Fahrenheit). Scientists say we might cross this milestone in just six years. Listener Julian wants to know what life will look like on the other side of that threshold. With the help of climate scientists, the BBC's Anand Jagatia dives into the worlds of virtual climate models. From heatwaves to higher humidity indices to extreme precipitation and drought, he gets a picture of what's to come. We also venture to places that are warming both faster and more slowly than the global average. In a remote village in Alaska residents are already dealing with life-changing permafrost thaw and ground that's melting beneath their feet. Permafrost expert Sue Natali tells us what this unexpected thawing ground means for the planet as it releases carbon and methane we weren't necessarily counting on. In Indian cities, temperatures were already high, but they're not rising as quickly as climate scientists had initially predicted. We hear why this is and why it might be a big problem in the not- too-distant future. Anand also speaks to television series writer Dorothy Fortenberry about how science informed plotlines in her new show Extrapolations. This episode is not just about what climate change will bring -- but what it will feel like. Presenter: Anand Jagatia Producer: Sam Baker Reporters: Sunni Bean & Chhavi Sachdev Editor: Richard Collings Production Co-ordinator: Jonathan Harris Studio Manager: Tim Heffer Featuring: Dorothy Fortenberry, Extrapolations, Apple TV Tom Matthews, Department of Geography, King's College London Sue Natali, Woodwell Climate Research Center Morris Alexie, Tribal Liaison, Alaska Native village of Nunapicuaq (Nunapitchuk) Rakesh Kumar, India's Council of Scientific and Industrial Research (Photo: Two children look out at floating sea ice. Credit: StutterStockX / Getty Images)
Expires in 33 hours
Published 11/10
How does food affect our mood?
"You are what you eat" is a well-known saying. But is it really true? That's what we explore in this week's CrowdScience thanks to a question from listener Claire from Australia. We each have trillions of tiny microbes and bacteria inside our bodies, living in our mouths, skin, ears and even in our eyes. Each community of microbes and bacteria is known as a microbiome. The most populous of these is in our gut, with hundreds of trillions of organisms and bacteria helping digest the food we eat. Our gut microbiome is affected by lots of things but mainly by our diet. With our gut microbiome forming such a massive part of our insides, people have long suspected that what we eat impacts how we feel. Presenter Caroline Steel investigates. She speaks to a professor of Psychiatry, Jane Foster, to find out how interconnected our microbiome and our brain really are. Professor Foster also explains the different ways in which our microbiome and brain communicate. Do we really know what role diet plays in mental health? Consultant psychiatrist Professor David Veale provides more detail. And at a café with a rather interesting menu, Caroline samples some of the food available as occupational therapist Joel Oliver explains how important food can be as part of mental health treatment. This begs the question: if our microbiome really does influence our mental health, can we harness the power of microbes to potentially find new treatments to help our mental health? Dr Najaf Amin tells us about her research identifying the link between specific microbes and depression. Producer: Hannah Fisher Presenter: Caroline Steel Editor: Richard Collings Production Coordinator: Jonathan Harris Studio Manager: Bob Nettles(Photo: Young hipster man eating salad. Credit: Tara Moore / Getty Images)
Expires in 22 hours
Published 11/03

1
Green Man Festival: Why are some animals so ugly?
Why are some animals cute, cuddly, adorable – and some are slimy, creepy and downright weird? This edition of Crowdscience, recorded in front of a live audience, comes to you directly from the world-famous Green Man Festival in Bannau Brycheiniog National Park in Cymru (Wales). The programme recording was powered entirely by hydrogen. Our inbox has been bursting at the seams with questions about creepy crawlies, deep sea beasties, cheeky monkeys, endangered species and animals of all shapes and sizes. So, we rounded up a panel of experts to get some answers! Surrounded by 25,000 people trudging merrily through the mud, pelted with torrential rain, underscored by the warm hum of revelry, the BBC's Marnie Chesterton speaks with Dr David Jones from the Natural History Museum, an expert on creepy crawlies and someone who spends a considerable amount of time thinking about earthworms, ants, and termites. Also joining us is Jess Savage, a researcher from the Institute of Zoology in London who's an expert on ocean-dwelling animals and the impact of plastic pollution. Finally, we have Simon Watt, a biologist, comedian and founder of the Ugly Animal Preservation Society. Join us for this very special edition of Crowdscience, in partnership with Green Man Festival, where we bring the experts closer to you than ever before. Presenter: Marnie Chesterton Producer: Emily Bird Editor: Richard Collings Technical producer: Mike Cox Studio manager: Jackie Margerum Production co-ordinator: Jonathan Harris(Photo: Marnie and guests. Credit: Jonathan Harris)
Published 10/27