Timcast IRL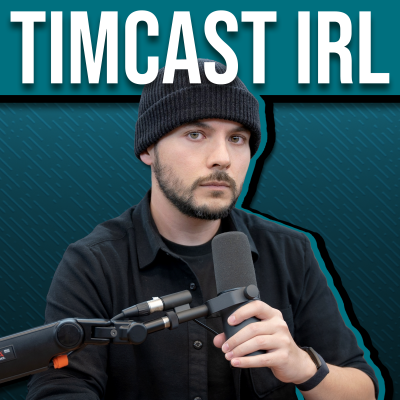 Timcast IRL features Tim Pool and guests discussing issues in culture, news, and politics. Featuring Ian Crossland as co-host and Serge Dotcom as live producer.
Website : https://timcast.com/
IPFS Feed : http://ipfspodcasting.com/RSS/194/TimcastIRL.xml
Last Episode : October 1, 2023 10:00am
Last Scanned : 35 minutes ago


Episodes
Episodes currently hosted on IPFS.
Sunday Uncensored: Andy Ngo & Patriot J Members Only Podcast
Tim & Co join Andy Ngo & Patriot J Members Only Podcast for a spicy bonus segment usually only available on Timcast.com. Learn more about your ad choices. Visit megaphone.fm/adchoices
Expires in 34 hours
Published Sunday
Timcast IRL #872 RFK JR Prepares Independent Run SPIKING Democrats, HELPING TRUMP w/Rich Baris
Tim, Ian, Phil, & Serge join Rich Baris to discuss RFK Jr announcing he will run as an independent for 2024 presidential run, Mike Cernovich predicting Trump will lose the 2024 election, Scott Adams warning conservatives that they will be targeted by democrats, & the rising political tensions in the United States. Learn more about your ad choices. Visit megaphone.fm/adchoices
Expires in 18 minutes
Published Friday

2
Timcast IRL #871 Elon Musk Says BUILD THE WALL, Streams Illegal Immigrants In Eagle Pass w/Dan Lyman
Tim, Phil, Libby Emmons, & Serge join Dan Lyman to discuss Elon Musk visiting the southern border & highlighting the immigration crisis, Joe Biden thanking Ron DeSantis for blaming Trump for America's rising inflation, & Costco selling out of gold bars as Americans lose faith in the US dollar. Learn more about your ad choices. Visit megaphone.fm/adchoices
Published Thursday

1
Timcast IRL #870 LIVE GOP DEBATE, Elon FIRES Election Team For Compromising Election w/Michael Knowles
Tim, Ian, Mary (PCC), & Serge join Michael Knowles to discuss Elon Musk firing the election integrity team from X, a woke judge undervaluing Trump's Mar-A-Lago by millions, & mass looting & riots overtaking the city of Philadelphia. Learn more about your ad choices. Visit megaphone.fm/adchoices
Published Wednesday

1
Timcast IRL #869 Judge Orders Trump Organization SHUT DOWN, SHOCKING Corruption w/Carl Benjamin
Tim, Hannah Claire, Phil, & Serge join Carl Benjamin & Libby Emmons to discuss a judge ordering to dissolve Trump's New York businesses, Black Americans rejecting another Joe Biden presidency, NYC's plans to spend over $1 billion to house illegal immigrants, and Russell Brand revealing the media is colluding against him. Learn more about your ad choices. Visit megaphone.fm/adchoices
Published Tuesday

1
Timcast IRL #868 BOYCOTT After Ad Firms DROP RUMBLE For Defending Russell Brandw/Andy Ngo & Patriot J
Tim, Hannah Claire, & Serge join Andy Ngo & Patriot J to discuss Burger King & HelloFresh pulling ads from Rumble over Rumble refusing to censor Russell Brand, Canada giving a standing ovation to a Nazi, new reports showing the US is funding Ukrainian businesses, & the Washington Post panicking after its own poll shows Trump winning 2024. Learn more about your ad choices. Visit megaphone.fm/adchoices
Published Monday

2
Timcast IRL #867 Democrat Senator INDICTED On Bribery Charges, Dem Mayor QUITS, Joins GOP w/Vince Dao
Tim, Ian, Phil, & Kellen join Vince Dao to discuss a democratic senator being indicted on bribery charges, the Mayor of Dallas quitting the Democrat party to join the Republicans, & why global elites are pushing for WW3. Learn more about your ad choices. Visit megaphone.fm/adchoices
Published 09/22

2
Timcast IRL #866 US SHUTDOWN IMMINENT, Spending BLOCKED, McCarthy FAILS w/Ami Horowitz & Matt Gaetz
Tim, Ian, & Carter join Ami Horowitz & Matt Gaetz to discuss the US govt. heading towards a shut down, Biden's lawyers involved in trying to impeach Ken Paxton, Trump hitting record support among Black & Latino voters in a new poll, and a new intelligence report suggesting Russia has effectively won the Ukraine war & the White House is lying about it. Learn more about your ad choices. Visit megaphone.fm/adchoices
Published 09/21

2
Timcast IRL #865 Russell Brand Conspiracy PROVEN TRUE, UK GOV CAUGHT Targeting Him w/Harrison Smith
Tim, Phil, & Carter join Chef Andrew Gruel & Harrison Smith to discuss the UK admitting it's going after Russell Brand, allegations against Tim Ballard surfacing only after he announces a run for Senate, Howard Stern promising his listeners that he is woke, & NeuraLink announcing it's beginning human trials. Learn more about your ad choices. Visit megaphone.fm/adchoices
Published 09/20

1
Timcast IRL #864 Ray Epps CHARGED By DOJ, Faces ONE Misdemeanor Sparking MORE Theories w/Kevin Sorbo
Tim, Ian, Brett (PCC), & Carter join Kevin Sorbo to discuss Ray Epps being charged over his role during J6, YouTube demonetizing Russell Brand after allegations emerge, Democrats beginning to panic over the health of Joe Biden, & Joe Biden rambling incoherently during a speech at the UN. Learn more about your ad choices. Visit megaphone.fm/adchoices
Published 09/19

1
Timcast IRL #863 Russell Brand Hit By MATRIX ATTACK, Cancels Tour Amid Me Too Scandal w/Adelitas Way
Tim, Ian, Hannah Claire, & Carter join Adelitas Way to discuss Russell Brand being targeted suddenly by a flurry of sexual assault allegations, insane theories suggesting Russell Brand started his podcast as an elaborate defense against me too allegations, the US completely losing track of an F35, & the island of Lampedusa being overwhelmed by 12,00 migrants. Learn more about your ad choices. Visit megaphone.fm/adchoices
Published 09/18